If you have a skin problem such as eczema, psoriasis, itchy scalp or acne, you may want to try almost anything to be rid of the skin itchiness, pain and discomfort that you are experiencing from the skin inflammation.
One of the most effective plants that has been widely used to relieve symptoms of skin problems besides coconut oil, is neem oil.
The neem tree (a.k.a. Azadirachta indica or Indian Lilac) is mainly found in South Asia—especially in India—which is why it is often used in Ayurvedic Medicine. Almost every part of the tree may be used to relieve various ailments:
Leaves:  Used to make into paste for treating skin diseases, or infused in tea to strengthen immunity.
Seeds:  Dried and crushed, or oil extracted to be used as medicines, tinctures or as ointments.
Bark and twigs:  Chewed for strengthening teeth, or powdered to be used in traditional medicines.
Roots:  Powdered to be made into traditional medicines for treating various ailments and diseases.
Flowers:  Used in culinary or simply eaten as a vegetable.
Fruits:  Eaten fresh or cooked for purifying blood.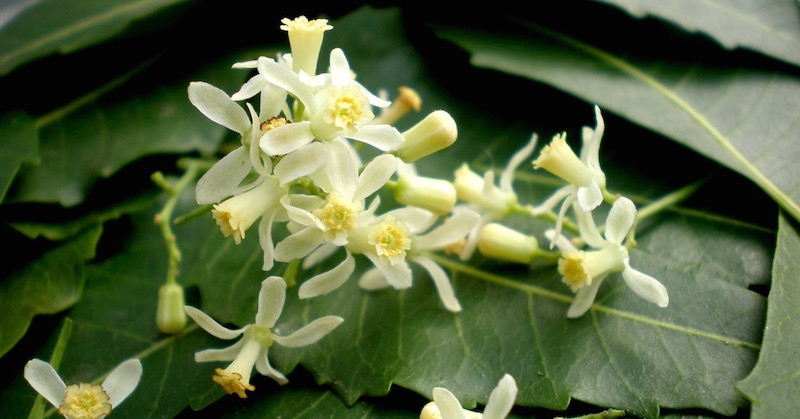 HEALTH BENEFITS OF NEEM
Neem has many outstanding medical benefits and one of its most important properties is its anti-cancer properties that kill cancerous cells. Ayurvedic practitioners claim that consuming neem in small amounts every day can bring the cancerous cells in our body under check and prevent them from being destructive. It's no wonder that neem can be found in 75% of ayurvedic medicines.
Thanks to its miraculous medicinal values, neem is virtually a living pharmacy! Due to its anticancer, antiseptic and anti-inflammatory properties, it means that the potential for improving the immune system is tremendous and the number of ailments that it can treat is just almost endless!
Here are a few of its natural "anti" properties, unlike the "anti" you find in pharmaceuticals. This means that they treat symptoms in the body without disrupting the natural gut flora habitat, bodily system processes and functions:
Antibacterial:  Destroys the proliferation of bacteria and bacterial overgrowth.
Antimicrobial:  Destroys the growth and development of harmful micro-organisms.
Antiviral:  Inhibits the growth of viruses and the development of diseases caused by viruses.
Antifungal:  Prevents the growth of fungi and infections.
Analgesic:  Provides relief to various bodily pains.
Anti-inflammatory:  Reduces internal and external inflammation, swelling and tenderness.
Antihistamine:  Reduces reactions from allergies.
From the properties above, you can only imagine the immense use of neem, and below is just a short list of ailments that can be helped when neem is used properly and correctly, to treat them: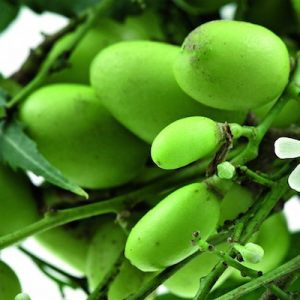 Digestive and brain health: Relieves indigestion, heals ulcers, removes parasites and worms, strengthens immunity. When digestive health is strong, it usually also improves brain health.
Blood health:  Purifies and detoxifies blood, clears up yeast and fungal infections, improves blood flow, regulates blood sugar level and blood pressure. This will also result in strengthened heart and respiratory health.
Liver and kidney health:  Prevents liver diseases such as hepatitis and cirrhosis. Prevents kidney disorders such as infections and kidney stones formation.
Skin health: Soothes and relieves inflammation, burns, break-outs, itchiness, redness, irritation, lightens skin pigmentation, treats acne, pimples. Very beneficial for individuals suffering from eczema, psoriasis and dermatitis.
Oral health:  Prevents periodontal diseases, strengthens teeth and gums.
Hair health:  Promotes healthy hair, prevents premature graying, dryness, breakage, thinning and hair loss.
The list goes on and on!  The neem plant is deemed as one of the most complex plants on earth. It may still be little known to the western world but where it is mostly found, neem is used daily in many personal and skin care products. In India, this tree is considered almost divine for what it can do.
https://juicing-for-health.com
Comments
comments